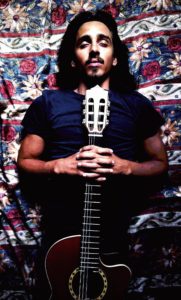 Hello Mauro, how are you?
I'm very well, thank you!
You are a singer songwriter with a very interesting background how did it begin for you?
According to my parents it all began when I was still in the crib and The Beatles came on the TV. Apparently I was fascinated by that… I mean I still am!
And then you now, being half Spanish and half Italian I always heard as a kid lots of different styles of music around the house: Flamenco, Mexican rancheras, and south american folk songs and classical music. I didn't really think I liked all that a lot when I was a kid (you know, it wasn't cool enough!) I started playing guitar at 9 years old and, of course, I wanted to play Rock! But then with time I have come to appreciate all kinds of music and tried to learn something from every style.
One of your biggest influences is the Beatles, what's your favourite Beatle song and why?
Uh, that's an impossible question! They're so great that I can't have a favorite song, it changes from time to time.
I can say though, that I've always found "Here, There and Everywhere" a beautiful song, that it transports me somewhere else, somewhere peaceful. And that song definitely had some influence on one of the tracks of "Out of Sight"
You have played in different countries, what's been your most memorable performance?
I'd say Aarau or Lausanne with the Jazzaar Global Ensamble. I was playing with a big orchestra and with Billy Cobham and Gil Goldstein and I felt really confortable in those moments, even though the pressure was high!
You are a guitarist, what guitar players are getting you excited at the moment?
Well, right now I'm very interested in Tora Dahle Aagård (I know, hard to spell), but she has a great phrasing and everything sounds really fluent. It's definitely worth checking out!
What's in your guitar rig?
Unfortunately I can never really build it up as much as I want because I'm moving too much. But I use a Music Man guitar or a Strat, depending on how modern I want the sound to be. As for pedals I have a ToneBone which has a great sound, an Eventide H9 that allows me to program very cool time and pitch effects, and the mandatory Boss Chorus and a Big Muff (in case it's needed, haha). And tube amps! Always tube amps, be that Fender, Blackstar or Mesa.
You studied guitar, what was the most important lesson that you learned during this period?


The most important thing I learned is the 80/20 rule:
You can practice something for a 20% of your capacity, and it will yield a 80% of result. So many people would stop there, because if you want to get to a 100% of result (just improving that a 20%) you need to put the other 80%, so 4 times the effort!
What are you listening to at the moment?
Basically John Mayer, Luis Miguel and early genesis. But somehow I got "Superstition" stuck in my head!
You've travelled through Europe gigging, what's your favourite city to perform in?


Wherever the food is good! But I prefer smaller cities, because you don't feel in such a rush.
If you could jam with anyone who would it be and why?
Guitar-wise I'd love to jam with David Gilmour, to see how the hell is he doing that! But as a songwriter of course I'd love to jam with Peter Gabriel or Paul McCartney. They're just legends!
You have very tight harmonies on your songs, specifically "The Sadness Of Her Smile" what influenced you with that?
I think for that The Eagles and The Beatles are to blame, but now I try not to think too much about it. Wherever I feel like it needs second vocals I just start singing over it whatever comes to mind, and usually something stays.
What's next for you in 2020?
You mean this is not enough!? Haha!
Just kidding. Well, the last two years, that this album is the product of, where pretty solitary, and all the work there is basically me. Now that I'm living in a city with so many musicians I'd love to write with new people and maybe the next album will be a little less introverted!
https://www.instagram.com/mauronocitomusic/
https://www.facebook.com/mauronocitomusic/
https://open.spotify.com/album/1kqgqKutgMHnH9cff3aSCN?
https://www.youtube.com/channel/UCd8RypZZJ05UcraoQMGBzNQ/featured?view_as=subscriber