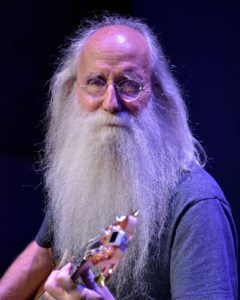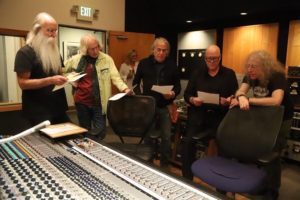 Hello Leland how are you?
Doing great! How are you?
I am very well thankyou very much for asking… 🙂
You are in the Immediate Family, a line up consisting of some of the finest musicians ever assembled. How's it going?
It is wonderful. To look around the stage and see guys I have been playing with for half a centruey is amazing. Everyone is still at the top of their game and the music is great!
You have released a song sampler, what's a typical writing session like with the guys?
I have not had a lot of time to be involved with the writing because I have been on tour a lot of the past 2 1/2 years. I got more involved when we got to the studio to start recording.
You have all played in various settings what's been your favourite of each other's work?
Really no favourites. Any time we can play is great, we have worked in so many combinations over the years and each time is special.
You have just recorded 17 songs, what's your favourite of all the songs so far?
The songs are really good. Kootch wrote a song called "Divorce" and it's really smart and fun but I like them all.
When you hit a brick wall creatively what do you do to break the deadlock between you?
Rarely happens but if it did, we would just call it a day, and come back to it. But for the most part, it flows easily after all this time.
What was the one song that made you want to play the bass?
There wasn't one song. It was the feel of the instrument the first time I held an upright bass and plucked the string that I knew it was for me. I was 12 years old.
How do you like to relax after touring?
I am not good at relaxing. When a tour ends I start hustling other work, mostly in the studio. But, I do like working around my house and love to garden. I really am not good with downtime.
What's in your set up?
On tour I use my Dingwall signature 5 string. My amp set up is a Euphonic Audio amp, a 1X12 and a 4X10 speaker. I use a Yamaha sub-kick in front of the 1X12 as a microphone. No effects. In the studio I bring my Euphonic Audio combo amp, several basses and a few pedals to use if needed. I try to keep things as simple as possible and concentrate on as pure and solid a bass sound as I can. I use GHS Super Steel round wounds in a medium light gauge.
What current artists are you into?
I listen a lot when driving but can't point out anyone who really has my attention right now. But, there is a lot of great music being made.
You've just come off tour with Phil Collins, what's been your favourite moment of this run?
When we walk on stage and the show starts. I absolutely love it and never tire of it. It is every night that I feel that way. Playing all around the world to so many people who love the music and sharing the stage with my best friends. The best!
The Immediate Family is going to play some shows, do you have anything you like to do before a gig?
No pre show rituals or anything. I tend to pace a lot. nervous energy, but not nervous. Just anxious to get started and rock the house.
What are you looking forward to most in the next 12 months?
As much work as possible. Besides gigs with The Immediate Family I also work with Judith Owen, a remarkable Welsh singer and pianist. She is amazing and I love working with her. NAMM is coming up. I have a couple of shows in Zürich with a gifted cellist named Martin Tillman. Lots of things going on all the time for which I am always gratetful.
https://open.spotify.com/album/7jODaq0K86wedAW7GFvCox?si=Y28goza-QDmxz8wjCGbVlQ